Jewellery Lessons in Whitstable
A warm welcome awaits you at my purpose-built Windmill Workshop at Pierpoint Road, overlooking Whitstable and the sea. I'm loving teaching so far! Can't wait to work with more of you, and/or your friends and your family - as some of you have expressed interest in giving silver jewellery-making experiences as gifts, or attending together. I'm beginning with half and whole-day courses for the moment, but will also offer one-to-one teaching as some of you have requested. You'll be in an environment that is safe, fun and relaxed... so if you've seen 'All That Glitters' on BBC iPlayer (essentially 'Bake Off' for jewellers) - I will NOT be inspiring those levels of stress! I will, however, be encouraging you to learn and use such techniques as hammering, texturing, polishing, soldering, sawing, reticulating, rolling, satining and oxidising.
We operate a covid-safe environment - the workshop is well-ventilated and we encourage regular hand-sanitising. Attendees will be limited to 4 or fewer for the foreseeable future to facilitate social-distancing (groups of six who feel safe together can be accommodated by special arrangement).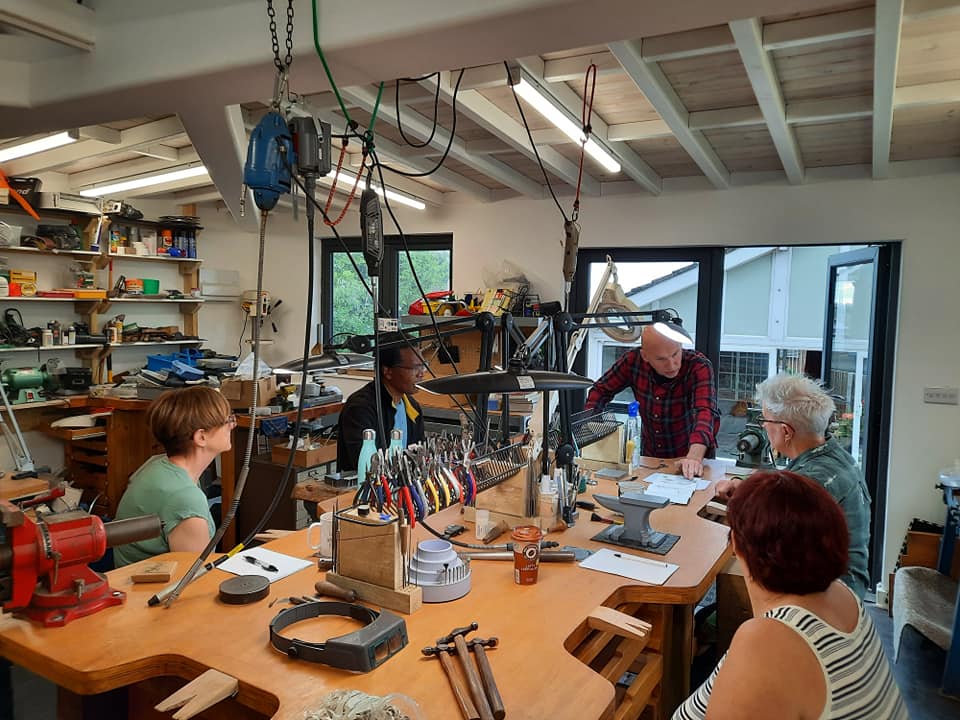 Examples of work achieved by beginners on a one-day course:
All prices are per attendee and exclude the metal we supply for you to use - this will be costed by weighing your finished piece(s) at the end of your session and charged based on that day's precious metal price, this seems fairest, as students tend to make pieces of very different weights!
Dates of courses may be subject to change if there are not enough students, or we may combine two workshops.
Half a Day: £75
Whole Day: £135
Suitable for: Beginners
Maximum Number of Students: 4 (special group bookings of 6 by arrangement)
In the morning, Rob will take you through the joys and pitfalls of working with silver. He'll explain the properties of different metals, demonstrate a selection of techniques such as forging, texturing, soldering and wax carving. You'll then experiment with copper to get a feel for the basic techniques involved in manipulating metal.
If you are staying for the afternoon, you will make a simple silver ring, bangle or pendant to take home.
Please WhatsApp Rob on 07980 543212 for the speediest reply to your query!
Whole Day: From £150 (based on 4 students, otherwise £400 for one couple)
Suitable for: All Levels
Maximum Number of Participants: 4
These workshops will be arranged by special appointment, please WhatsApp Rob to discuss dates and designs (07980 543212).
This is an intensive course where you can create a ring for each of you which you design and complete under Rob's supervision. You both need to attend to ensure accurate fitting!
This will require considerable liaison prior to attending the workshop to ensure you get the most from the day and have a very clear idea of the design you plan to make, as Rob will have to ensure it's technically feasible within a day.
One-to-one with Rob: £60 per hour, or a daily rate of £400 - suitable for all levels.
Use of workshop only (no tuition): price on application. Suitable for experienced makers only.
Please WhatsApp Rob on 07980 543212 for the speediest reply to your query!
What is supplied:
All tools and materials (your final pieces to take home will be weighed and charged at raw material cost)
Limitless tea, coffee and biscuits (on a help-yourself basis)
What you need to wear/bring:
Clothes you don't mind getting dirty! (An apron is advisable)
Safety glasses
Your health and safety are our primary concern, both from a covid point of view, and regarding the tools and equipment you can expect to use on a course. There are many ways to cut, pierce, graze, electrocute, burn or crush yourselves, so I will brief you thoroughly throughout on where the dangers lie. We have gold-standard public liability insurance, but would much rather you left us in the condition you arrived.
Please bring your own safety glasses, as these should be worn at all times (there are some here, but you may have your own more comfortable pair).
If you require accommodation, our neighbour runs an Airbnb called 'Pierpoint Studio' and has outstanding reviews.